Disclaimer: While we generally refer to the "patient" throughout this document, we are aware that some healthcare practitioners provide care to "clients." Our use of "patient" is in no way meant to exclude any healthcare practitioner.
It's a scenario that's still all too common. You schedule an appointment to visit a healthcare practitioner, and they email you intake forms to fill out as attached PDFs. You either have to print and scan them to send them back, which is difficult if you don't have a printer or scanner, or you need to find a PDF editor. That can be frustrating if you don't know what you're looking for.
Or, here's another scenario. You hurry to your appointment only to spend ten minutes in the waiting room filling out paper forms, hoping that you're entering the information accurately in spite of the rush.
PDFs and paper forms are a big problem you don't want to give your patients. Fortunately, there's a solution. With relatively little effort, you can turn all of your PDFs into easy-to-fill online forms you can send to your patients and receive back with just a few clicks.
Let's take a closer look at why PDFs and paper forms no longer work and how you can transform your healthcare practice with online forms.
Paper forms don't work
Paper forms are becoming more and more archaic, especially now that we've experienced a global pandemic that required most of us to shift to contactless transactions. Yet, you still see paper forms – health history forms, informed consent for treatment forms, authorization request forms – oftentimes in surprising places, such as a COVID-19 vaccination center. This is because paper forms take minimal setup time. All you have to do is print the forms, set out some pens, and you're done.
This isn't a good enough reason to keep using paper forms, though. They cause a lot of problems for healthcare practitioners and patients alike:

Take up valuable time in the waiting room

Lead to inaccuracies when filled out in a rush without access to records

Often difficult to read or incomplete once submitted

Require scanning to upload to your practice management software

Require physical filing, taking up valuable office space

Have a negative impact on the environment

PDF forms are inconvenient

Most healthcare practitioners recognize that paper is no longer an efficient way to collect information. Many have made a halfway step toward using online forms by turning their paper forms into PDFs, either by scanning their intake forms or downloading a sample medical history PDF form from the internet. This way, at least they can send their forms through email to their patients. The convenience stops there, however, and you get the scenario detailed above – patients struggling to print, fill out, and scan your forms before their appointment. Not to mention the lack of security when a form is emailed in this manner.

In a way, PDFs are even worse than paper forms because there's an insinuation that the patient should be able to do something with the PDF even if they don't have the proper equipment (i.e., printer, scanner, or PDF editing software). At least with paper forms, pretty much anyone can lay their hands on a pen.

With PDFs, you put the burden of figuring out how to fill out your forms squarely on your patients' shoulders. Here's what many of your patients contend with when you send them a PDF:

Lack of the necessary equipment – many homes don't have printers or scanners

It's time-consuming printing and scanning even if the equipment is available

A suboptimal viewing experience that depends on the software and device they're using

Pre-sized fields that limit the space for responses and signatures

And here's what you likely contend with as a healthcare practitioner:

Difficulties making changes to the PDF form

Non-compliance if you send and receive pre-filled forms through regular email without encryption

Incomplete or illegible form submissions, leading to inaccuracies in your patients' records

Health screenings that need to be scored manually, taking time and sacrificing accuracy

Complaints from patients wanting an easier way to fill out your forms

Overall lack of security that compromises your compliance

The advantages of online forms for your healthcare practice

It's not hyperbole to say that secure, online forms solve all of the problems listed above if you choose the right form service for your healthcare practice. The service should provide the following:

The rise of the virtual practice prompted practitioners to take a closer look at HIPAA, as well as state and local jurisdiction requirements, and how those rules might affect them. Understanding the HIPAA Privacy and Security Rules is essential, as is understanding the basic ethical responsibilities around handling patients' sensitive information.

Online forms that are HIPAA compliant

Online communication of any sort comes with myriad vulnerabilities that are troublesome for anyone, but especially for those managing a healthcare practice. Today, when much of our work takes place online, these vulnerabilities are an even greater threat to the safety of your patients' most sensitive information. Complying with the HIPAA rules is more important than ever.

Even if you aren't technically required to follow HIPAA guidelines, as a healthcare practitioner, you know how crucial it is to the wellbeing of your patients that they feel comfortable sharing sensitive information with you. For that reason, you want all communication to be protected from the first contact. A secure contact form is the perfect way to invite potential patients to start a conversation so you can both determine if you're a right fit for each other.

Online forms that are affordable

The right form service shouldn't break the bank with hidden charges or costly add ons. You might have to research a bit to find out what different plans actually provide, specifically when it comes to finding a HIPAA-compliant form service. The Business Associate Agreement (BAA) that's necessary for your practice's HIPAA compliance should not incur an astronomical fee. Look for a service that wraps e-signatures and a BAA into one affordable package.

Templates of online forms you use in your healthcare practice

If you don't want to create a form from scratch, it's nice to be able to choose a template that you can start using immediately. Practitioners tend to use the same basic forms for their practices, so there's no need to recreate the wheel. Ideally, the templates will allow you to customize them to reflect your practice. Some useful templates include intake forms, contact forms, and COVID-19 screening forms.

Other useful templates include self-administered questionnaires. These templates are online versions of popular health screenings, such as the PHQ-9 depression screening, that deliver a score to the practitioner upon completion.

Online forms that can be created in minutes

Even if you find a form service that provides templates, you might need a form that isn't available, and that's when it helps to have a form builder that's easy to use so you can create exactly what you need – without having to give yourself a crash course in coding and design. A form builder that allows you to quickly build a form by dragging and dropping pieces onto a page is key. A good form service will provide templates and an easy way to build an original form from start to finish.
Online forms that are easy to fill out for your patients

You want to send your patients forms that are a breeze to fill out. Forms that provide extras like radio buttons, dropdown menus, calendars, body charts, repeaters, and conditional visibility make filling out the form a very simple process from start to finish. It's also helpful for you as the practitioner to be able to require certain responses. This means the form can't be submitted until you have the information you require for your records. With required fields, incomplete forms become a thing of the past.
Online forms that allow e-signatures

When most practices switched to online care during the pandemic, being able to collect legally binding e-signatures on informed consent forms was crucial to their success. Now that practices are reopening physical offices, e-signatures are still the best way to go. They free up time in the waiting room, they're contactless, and they're easy to track and file.
Not all e-signatures are equal, however. Generally, for an e-signature to have the same legal effect as a handwritten one, it has to comply with the requirements of the Electronic Signatures in Global and National Commerce Act (ESIGN) or the Uniform Electronic Transactions Act (UETA).
E-signable web forms certainly are convenient. However, some practice forms, such as your Authorization for Disclosure of PHI and informed consent for treatment forms, should have an e-signature, and others can go without. Our blog post Practice forms your clients should e-sign will help you make that distinction.

Responsive customer care

A dedicated support team might be the most important thing to look for when you're shopping for a form service. No matter how user-friendly the service is, questions about building your intake forms or sending them to your patients could still come up, and it's rarely at a convenient time when they do. It helps to be able to reach out to a real person and get your issue solved within an acceptable time frame.

Hush™ Secure Forms provides everything your healthcare practice needs

Hush™ Secure Forms checks the box on all of the above criteria. Here's what you can expect:

Forms that are HIPAA-compliant. Hushmail provides a signed Business Associate Agreement and protects the information collected by your forms with the same encryption that protects our email service.

E-signature fields (available on select plans) that are compliant with UETA and ESIGN, giving them the same legal effect as handwritten signatures. You can read more about how our e-signatures work in our blog post Frequently asked questions about Hushmail electronic signatures.

A growing template directory to supply your practice with the forms you need in an increasingly unpredictable healthcare environment.

A dedicated customer success team that has the sole purpose of holding your hand as you get your Hushmail account and web forms up and running as soon as possible, as well as providing ongoing support throughout the duration of our relationship. We'll even help you build your forms for a nominal fee.

Self-administered questionnaires that score themselves and are easy to read and complete. Our template directory currently offers nine of these questionnaires:

Make the switch to Hush™ Secure Forms

Once you sign up for a Hushmail for Healthcare plan, you can start launching your practice forms that same day.

You never have to be intimidated by building a form. Read our blog post Set up your intake forms in 10 minutes or less using our templates to get an idea of how you can get started quickly.

While many Hushmail customers like to use our templates to start their forms, if you can't find what you want in our template directory, you can build what you need by using our drag-and-drop form builder. No coding knowledge is required. If you're currently sending your patients PDFs, you can transform these into brand new web forms by copying and pasting their content into your forms' formatted text fields.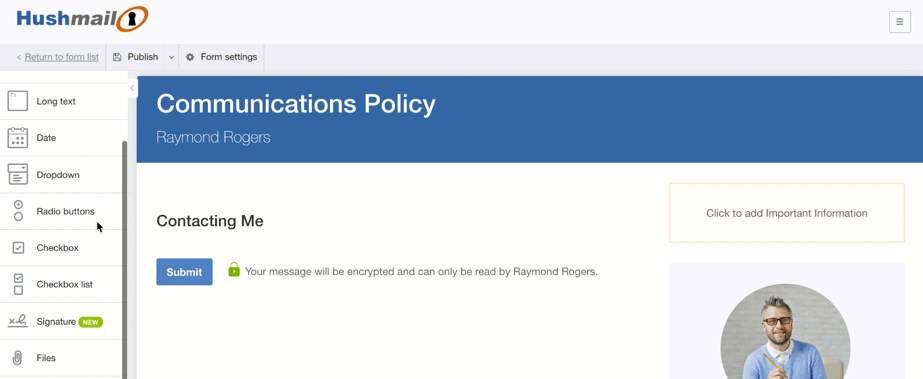 Or, if your time is very limited, you can always reach out to us and ask about our affordable form building service. We can transform your paper forms to digital in just a few days.
More ways to use secure web forms in your healthcare practice

Our secure web forms don't stop at intake forms. Features like body charts, conditional visibility, and repeaters mean you can get creative with the forms you create and where you use them. Let's take a look at a few of these outside-the-box ideas.
Set and manage communication expectations with e-signable web forms
As more people seek care online, it's more important than ever to state in clear terms what patients can expect when it comes to communication. Here are a few forms that help explain your preferences as a practitioner, educate your patients about different forms of communication and their risks, and get their consent to the decisions you both decide upon.
Communications policy - this form explains in clear terms how a patient can expect to communicate with you. It covers the preferred method of communication (i.e., secure email, secure text message, secure contact form on your website, etc.), an estimated response time, contact information in case of an emergency, among other details that reassure a patient of their ability to get in touch with you while also establishing boundaries that benefit both you and your patient.
The communications policy is a good place to include anything you need your patients to understand about communicating with you. Stating preferences and boundaries upfront is necessary for avoiding misunderstandings later in the relationship.
Email and texting risk questionnaire - this form helps patients make an informed decision about accepting or not accepting the risks associated with email and text messaging. The risks will vary depending on the technology and software you and your patients use, as the security of different tools can vary dramatically. This questionnaire gives you and your patient the opportunity to discuss what will and won't be used, how, and to what extent.
The form also covers risks other than security risks. For example, there is a risk associated with misunderstood expectations of response time. The questionnaire asks the patient to consider how they would react if their practitioner's response time doesn't match what the patient is typically used to.
Request for non-secure communications - secure, encrypted email is always the preferred choice when messages between a practitioner and patient contain sensitive information. However, even after discussing the risks, you might find that some patients still prefer a non-secure means of communication. This form gives patients the opportunity to choose to use or not use non-secure communications, states that they have been informed of the risks, and requests the patient's signature accepting those risks. Under HIPAA, patients have a right to receive non-secure communications. However, the onus is on the practitioner to have the patient opt out of secure email and text messaging options before communicating with them in a non-secure manner.
You can read more about these forms and see examples in our blog post 3 web forms to set communication expectations with your clients.
Connect securely with potential patients through third-party directory websites
One place to protect your virtual practice that is often overlooked is on third-party directory websites, such as Psychology Today or Find-a-Dentist. You should be aware of one very important aspect of their practitioner profiles. The email button on your profile page allows potential patients to contact you through a form that isn't secure or HIPAA compliant.
The Psychology Today email button leads to a generic form that submits to the email address of your choice. The message field allows for 200 words. Potential clients could be inspired to include all sorts of private information, unaware that it's not guaranteed to be kept private or to reach the practitioner.
The way to remedy this situation is to direct potential clients away from the Psychology Today or Find-a-Dentist contact form to an encrypted Hushmail web form instead. Information sent through one of our web forms is always secure.
You can read more about how to use a secure contact form to communicate with potential clients in our blog post Make your Psychology Today profile even better with Hush™ Secure Forms.
Create a CBT homework form using body charts, conditional visibility, and repeaters
If you're a behavioral health practitioner serving clients virtually, you may find it challenging to distribute homework they can conveniently complete and send back so you can provide feedback at your next session. After all, not everyone has a printer and scanner at their disposal.
Web forms, however, make homework convenient and easy to complete in time for your next session. With Hush™ Secure Forms, you can put together a customized homework form that your client can fill out from any device at a time that's convenient for them. And they can feel safe knowing that their private information is secured with encryption.
You can read more about how to create a secure CBT homework form in our blog post Create a CBT homework form using body charts, conditional visibility, and repeaters.
Success stories of practitioners who switched to online forms
Carol Park, LPC-S, RD

Find out how Carol Park, a Licensed Professional Counselor and Registered Dietitian, is managing her practice during the pandemic using HIPAA-compliant web forms to help her provide telehealth services to her clients.
In Carol's success story, you'll read about:
How she quickly put technology in place during a stressful time

How her practice changed when she started using secure web forms

How she's adjusted to using telehealth to care for more clients

A little about the history and use of telehealth
Carol's story
My practice provides psychological and nutritional therapy for individuals struggling with eating disorders. I was, and still am, an individual practitioner with a full caseload. Prior to the pandemic, about 90 percent of my cases were in-office with the rest over telehealth.
I've been using Hushmail for years as my secure email provider, but it wasn't until just before the COVID-19 pandemic that I started putting Hush™ Secure Forms to full use in my practice. In all candidness, I'm not the most tech-savvy person in the world, and a colleague helped me put the web forms on my website. You can find them under the Helpful forms tab.
Download the complete success story
Neil J. Gajjar, DDS
Explore how dentist Dr. Neil Gajjar safely continued providing emergency care at the height of the pandemic and reopened his elective services using encrypted web forms as part of his strategy to maintain safe contact with his patients.
In Neil's success story, you'll read about how he:
Used secure web forms to reduce contact, increase efficiency, and streamline operations

Maintained positive interaction with patients while limiting physical contact as much as possible

Launched intake forms patients could fill out and sign at home

Efficiently screened patients and staff for COVID-19
Neil's story
The news that I had to close my practice except for emergent care was unprecedented and a bit of a shock. I'd just returned from a trip to the US, and I chose to quarantine myself for 14 days, although at that time it wasn't mandatory. It was the prudent decision.
When I returned to my practice, I found a stack of intake forms on my desk that were damp. When I asked why, I learned that because the forms had gone through multiple hands and multiple areas in the office, my staff had attempted to sanitize them by spraying them with disinfectant. They were difficult to read, and it was clear that paper forms would no longer work for us. It was also clear that we would have to examine all areas of the practice to make sure we responded appropriately to this situation.
Download the complete success story
Kevin L. Gee, OD, FAAO
Get to know Dr. Kevin Gee, an optometrist in Missouri City, Texas, who placed encrypted email and web forms at the center of his practice's strategy to keep staff and patients safe during reopening and found them to increase his efficiency in unexpected ways.
In Kevin's success story, you'll read about:

The two web forms he uses to safely welcome patients for their appointments

How he used easy-to-edit web forms to keep up with frequent changes to pandemic recommendations

An unexpected silver lining that's helping him get to know his patients better

His three recommendations for managing a practice during uncertain times

Kevin's story
We shut down our practice in March, except for emergency cases. During this time, it was important that our patients felt they were still connected with us. I knew communication would be key! We used an automated response on our phones to inform them that our practice was closed, and messages were rerouted to my Hushmail inbox, so I was always apprised of their needs and could respond promptly. This was a confusing time for everyone, and we figured that reliable communication would be an important component in helping our patients feel safe.

Because the future was uncertain, we sent out a newsletter encouraging our contact lens wearers to contact me if they had less than a three-month supply. Within 18 hours, we filled 45 orders! Rebates, receipts, and other documents were easily sent securely back and forth with Hushmail.

Download the complete success story
Hushmail can get you started with online forms
Did you get a lot out of this page?

We're always publishing new information to help you better understand the intricacies of secure communication. Here are some other pages that might interest you as well:
HIPAA compliance and online communication – what you need to know
The HIPAA-compliant virtual healthcare practice
Resources
Electronic Signatures in Global and National Commerce Act (ESIGN)
Uniform Electronic Transactions Act (UETA)